Every business needs a reliable phone system. The phone system plays a vital role in employee productivity and customer satisfaction. However, traditional business phone systems just don't offer the same flexibility or features as VoIP business telephone services. If you've been thinking about making the switch to VoIP, there are a few things that you'll need to consider beforehand.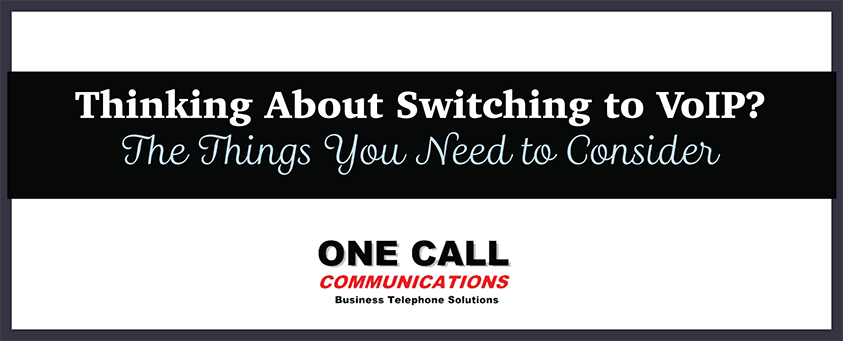 Consider This Before Switching to VoIP
Before you make the big switch, there are a few things that you'll need to consider. Below are just a few important factors:
Bandwidth Needs
VoIP phone services route voice traffic over the Internet. This means that you'll need to consider your data bandwidth and voice traffic needs before choosing the right solution for your business. Instead of thinking about how many voice lines you will need on your business telephone system, you'll now be considering how many different voice sessions you need to take place at the same time.
Don't just think about your current data bandwidth needs. You want a business communication solution that can grow as your company does. Consider what your bandwidth needs might be in the future, and take this into consideration when discussing your options with your telecom provider.
Phone Equipment
When you start using VoIP services, you will need to have equipment that's equipped with Ethernet support. Your current phone equipment may not work with your new VoIP system. Find out from your VoIP provider if you will need to purchase new equipment in order to enjoy the benefits of VoIP. If you do need new phone equipment, you'll want to consider how many phones your office needs and determine your price range.
If you do need new phone equipment, One Call Communications can help suggest the right equipment for your business. We have a wide variety of VoIP systems to meet your business needs and fit your budget. Our team will work with you to find the right solutions for your office.
Employee Training
Another thing that you will need to consider before you make the switch to VoIP is how you plan to train your employees on the new system. Your new phone system will only be effective if you and your employees know how to use it. In order to get the most out of your new system and avoid any headaches along the way, you'll want to make sure that you train your team on how to use the new system before your new system goes live.
There are a number of different ways that you can support your team through the transition to VoIP. Set up an in-person training and make sure that all team members have access to training manuals, tutorials, and videos before you completely switch over. Making sure that everyone knows how to use the new equipment will help ensure a smooth transition.
Are you ready to make the switch to VoIP? Contact our team of VoIP experts today to find out what system might be right for your business.