We have certainly come a long way since the telegraph. As communication systems become more complex, it is necessary to find ways to make these systems easy to manage in order to avoid breakdowns in communication and loss of productivity.
The network cabling infrastructure is an important part of your company's IT infrastructure, and proper management of this cabling system is vital for successful data flow and effective communication. Below, we will talk a little bit more about how structured cabling helps you manage this system and how it can benefit your business.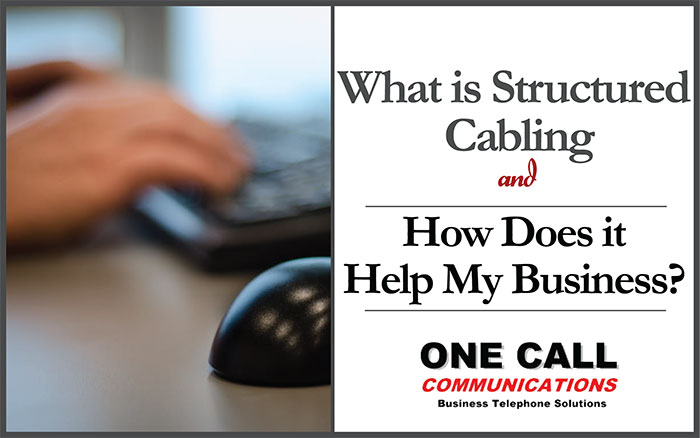 What is Structured Cabling?
Structured cabling refers to an organized and standardized approach to creating a cabling system that best supports your IT infrastructure. A small problem with your network cabling can cause significant issues for your business, especially as you grow and expand, adding more users and applications to the network. Structured cabling makes your cabling system easier to manage, while also allow for more flexibility in adding or moving users.
A structured cabling provider typically offers cabling system design and configuration, video cabling, fiber optics, rack and data cabinet cleanup, server room solutions, maintenance and support, and voice communications. However, not all structured cabling services are created equal. An improperly designed cabling system may cause your company's operational costs to increase by up to 80%. To minimize downtime and support productivity, it is important that you make an informed decision when choosing a structured cabling service provider in Wilson, NC.
The Benefits of Structured Cabling
One of the greatest benefits that structured cabling can offer you is flexibility. When you implement a structured cabling system, data is all carried by one unified structure. This means that all you have to do to connect a new device to the network is plug it in to the correct socket. This flexibility eliminates the challenges that you might face without a structured cabling system when you try to add more users and devices to your network. It also makes changes and moves within the office go much more smoothly. The bottom line is, business growth is just easier with a structured cabling system.
Another important business benefit of a structured cabling system is that it is much easier to manage. You will no longer have to create multiple cabling systems. Instead, you can manage your cabling infrastructure all from one location. In addition, structured cabling can carry a higher bandwidth, meaning that it will be able to better support emerging applications that you might integrate in the future.
Structured Cabling Services from One Call Communications
One Call Communications offers quality structured cabling services that help support your voice and data needs now and in the future. As a full service cabling company, we take care of all your needs from the initial consultation all the way through providing ongoing maintenance and support. If you are ready to experience the unique benefits of structured cabling for your business, call us today for more information: (888) 823-7373.