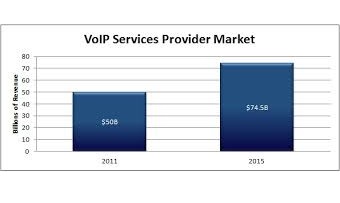 VoIP, or Voice over Internet Protocol, has been experiencing a steady growth over the last few years and will continue this growth trend in 2015. Businesses across the world have come to learn about the immense potential that the new technology holds and this will help VoIP to grow its impact on businesses. Not only businesses but general consumers too have come to realize the advantages like inexpensive or even free calls being offered by VoIP. More and more businesses are switching to the latest VoIP telephone systems and this is not just mere speculation – figures drive home this statement.
The recent market information from various trusted sources working in the networking and telecommunication industry have reiterated the fact that the market is experiencing a huge growth. Revenues from multimedia systems have gone up by 50% in the past year and the IP technology market has seen a 3% growth in revenue for average service providers. Growth segments, which include IMS Core, Voice Application Servers and Session Border Controllers, were within $50 million of the $1 billion per quarter mark," Telecom Reseller (News – Alert) mentioned in a news feed.
Chris DePuy, VP of Carrier IP Telephony research at Dell'Oro Group has stated "We are seeing operators expand their service offerings to deliver multiple services on shared infrastructures, resulting in significant interoperability benefits to customers and increasing leverage on network investments." "IMS-based infrastructures now power multiple services for operators. In addition to Voice over LTE (News – Alert) (VoLTE) services that provide high-definition voice, the same service providers are also launching Voice over Wi-Fi (VoWi-Fi) that addresses indoor cellular wireless coverage shortfalls. We also anticipate additional services will appear over the next several quarters at these same operators, such as Rich Communications Services (RCS) that allow advanced messaging and video calling that competes with Over the Top (OTT)."
Telecom Reseller also noted that "The overall Carrier IP Telephony market, which includes devices used to serve both circuit switched subscribers, Voice over IP (VoIP) and Voice over LTE subscribers, approached $1.7 B in the third quarter 2014."
Thus, we can all see that the market is growing and VoIP is one of the most significant players in the market.
A recent report published by Infonetics Research states that there has been a 43% growth in the VoIP market within a span of 4 years (2010 to 2014) and it was worth $49.8 Billion last year. The report further projects the market growth will touch $74.5 Billion by the end of 2015. The report also mentions that the residential services contributed to 69% of the total revenue but VoIP too is registering a rapid growth. The report further mentions that SIP trunking has experienced a revenue spike of 143% and it predicts that VoIP service and IP-PBX revenue will double between 2010 and 2015.
This report also mentions the name of the leading VoIP service providers and placed Japan's NTT at the tops of the list as residential provider followed by Comcast and France Telecom. There was a growth of 19% registered for the residential VoIP subscribers in the year 2010, which reached to 157 million worldwide.
About One Call Communications
One Call Communications is a leading provider of phone systems in North Carolina. We serve thousands of clients across Greenville, Rocky Mt., Goldsboro, Smithfield, & Wilson. We sell, install, and service business telephone equipment, voicemail and, voice and data network cabling. We install and service premium quality products from Toshiba Telecom. We serve both commercial and industrial clients.
Call us today for your networking and communication requirements.